Daiwabo Holdings Co., Ltd. was established in 2009 as a pure holding company through the management structure integration of Daiwabo Co., Ltd. and DAIWABO INFORMATION SYSTEM CO., LTD. (DIS), with the aim of promoting the Daiwabo Group's growth strategy. In 2011, Daiwabo Holdings and O-M Ltd. integrated their management structures, and they are now focusing on the IT infrastructure distribution business, while also leveraging the respective strengths of the fiber business and the industrial machinery business to further develop business and establish a stable earnings structure.
DIS a core company in the IT infrastructure distribution business, has been taking on new business areas in the constantly changing IT industry and has been responding to the diverse needs of its business partners nationwide with a one-stop solution since its establishment in 1982. For example, DIS was among the first to develop a quick response and immediate delivery system in the rapidly growing PC market. As a result, DIS has grown to become one of the largest IT distributors in Japan by working closely with IT manufacturers around the world as an independent multi-vendor company and establishing a system to provide all kinds of products and services in optimal combinations. DIS also gained the trust of its business partners through face-to-face sales proposals.
The fiber business dates back to 1941 and began with the spinning industry, which is the origin of our company name. Over this long period of time, we have grasped the needs of society and focused our efforts on research and development to take advantage of the diverse characteristics of fibers. At present, we are building a stable business base by developing products for a wide range of applications, from household materials, such as disposable diapers, to industrial materials, such as sheets used for civil engineering. The industrial machinery business, which has roots in the machinery division of Daiwabo Co., Ltd., has been consolidated through mergers, and focuses on the machine tool and automatic machine manufacturing businesses. In the area of vertical lathes, which are used mainly in the heavy and chemical industries, and particularly in parts processing for aircraft engines, we have gained a high share of the market thanks to our well-regarded craftsmanship.
All of these businesses have improved their competitiveness in their respective markets by constantly adapting to the times. This responsiveness is the Group's greatest strength. The Company has clearly defined individual authority and responsibility for the three main businesses of each core operating company; and, under this framework, we are cultivating a sense of unity within the group to promote swift decision-making and stronger governance.
In order for us to achieve further growth, it is essential that we respond quickly to the needs of this new era. We will work to strengthen our management base and enhance corporate value by exploring possibilities and boldly taking on challenges that transcend conventional thinking. We will continue to work as a group to strengthen the trust of our stakeholders while we continue to give back to society in a wide range of ways.
We appreciate your continued support.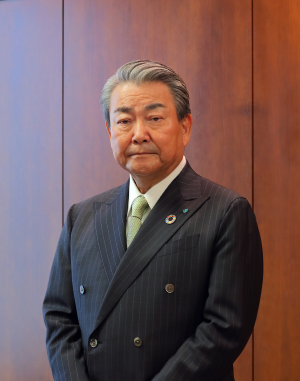 Representative Director,
President and
Chief Executive Officer
Yukihiro Nishimura