Enabling the Construction and Management of Simple and Secure Telework Environments by Combining iPad, Cisco Meraki, and Webex
Daiwabo Information System Co., Ltd.
Cisco Systems G.K.
Daiwabo Information System Co., Ltd. (Head Office: Kita-ku, Osaka, President: Hiroyuki Matsumoto, hereafter referred to as "DIS") and Cisco Systems G.K. (Head Office: Minato-ku, Tokyo, President and General Manager: Dave West, hereafter referred to as "Cisco") announced today that they have begun providing the "iPad x Cisco Meraki Easy Telework Package", designed for rapid construction of secure telework environments with agency operation and management services.
The iPad x Cisco Meraki Easy Telework Package consists of vital devices for telework, a web conference system, and a network that connects employees' homes with their office; and includes installation and operational services.
It is designed for small- and medium-sized companies facing an urgent need to draw up a stable and secure telework environment for a business continuity plan.
(Outline of the Easy Telework Package)
The system consists of a high-security iPad, Cisco Webex (a web conference system utilized by public offices and large companies around the world), and Cisco Meraki (a cloud-managed network solution). As an authorized Apple and Cisco dealer, DIS provides an integrated package service (from construction and installation of the system, through operational management after installation, to support), customized to customers' individual needs, in cooperation with its dealers throughout Japan.
It is possible to easily construct a secure telework environment by installing a Cisco Meraki Teleworker gateway in employees' homes, and a security appliance in the office. Telework can be enabled simply by combining a highly secure iPad and the Cisco Webex web conference system.
A system that connects the homes of five employees and the head office is available for about 1.3 million yen (including one-year maintenance service).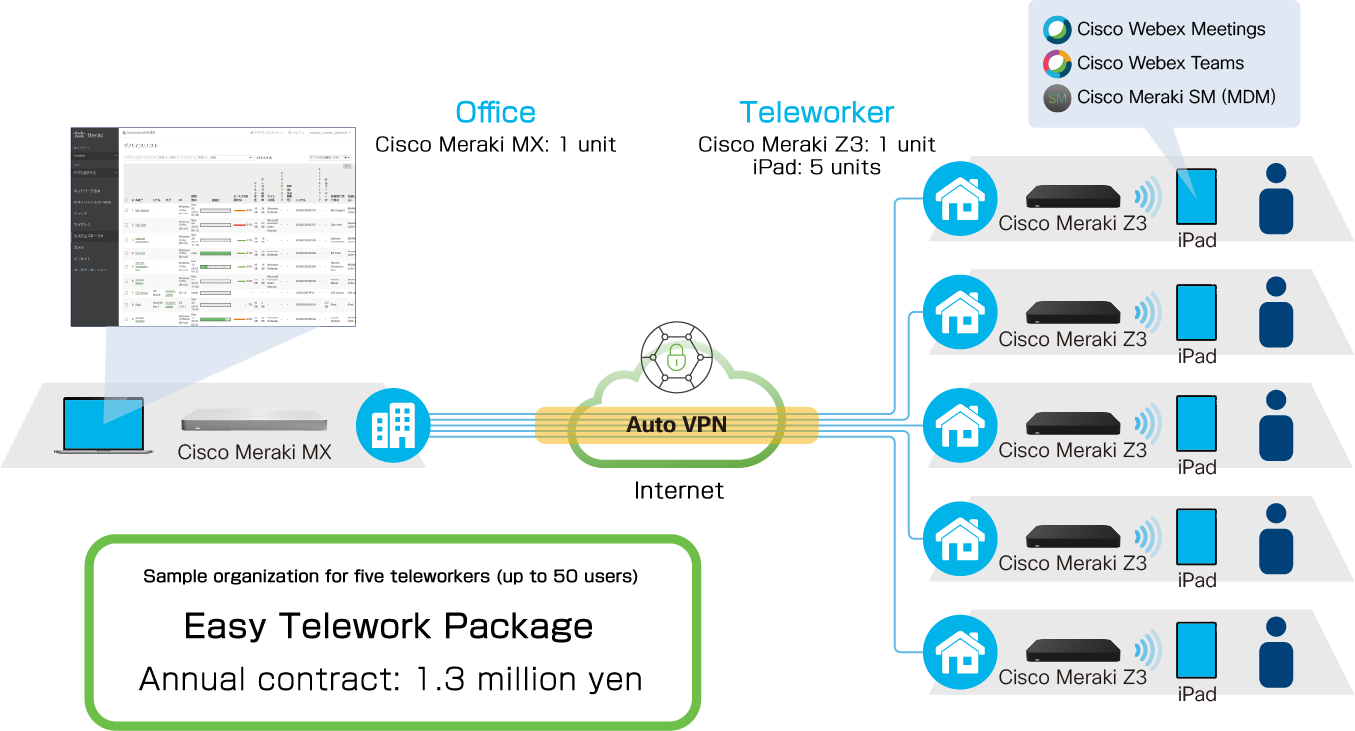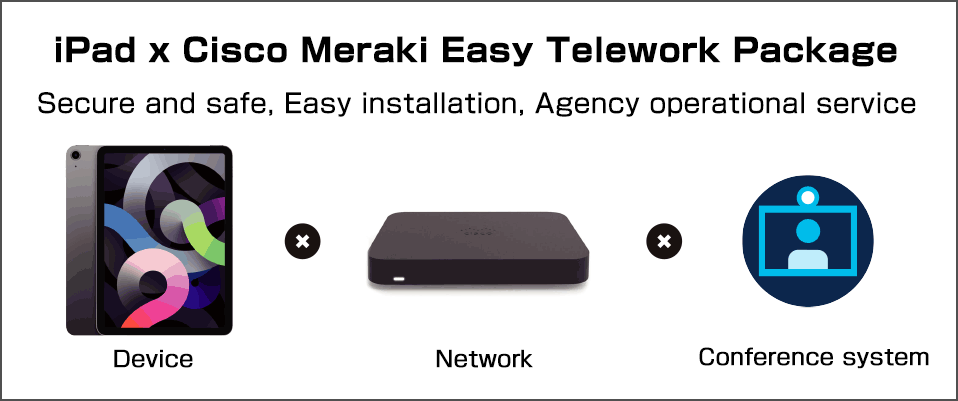 On Daiwabo Information System Co., Ltd.
As one of Japan's leading distributors of IT-related products, DIS supplies such products, purchased from around 1,200 makers and suppliers, both at home and abroad, to end users across the country, through our network of around 19,000 dealers in Japan. Operating roughly 90 sales bases throughout the country, we have a well-established and community-based sales system, and can respond to a wide-range of requests from our customers, as a friendly and trustworthy distributor.
URL : https://www.pc-daiwabo.co.jp/english/
On Cisco Systems G.K.
Cisco Systems G.K. is the Japanese subsidiary of Cisco Systems, Inc. of the U.S. (NASDAQ: CSCO). Cisco offers proposals on a wide range of subjects, such as intelligent networking solutions for business infrastructure; new fields defined by voice, video, data, storage, security, and entertainment; and network platforms that can dramatically enhance the work, life, pleasure, and education of humanity.
URL : http://www.cisco.com/jp (This website is written in Japanese.)
【For media inquiries, please contact】
Daiwabo Information System Co., Ltd.
Information Strategy Dept. Mr.Tanimizu
TEL : +81-6-4707-8063
*Cisco, Cisco Systems, and Cisco Systems' logo are trademarks or registered trademarks of Cisco Systems, Inc. or its associated companies in the U.S. and other countries. Other trademarks appearing in this document or website are the property of the respective right holders. Usage of the term "partner" does not refer to a partnership between Cisco and other companies. (1502R)
*Apple and iPad are trademarks of Apple, Inc.