The Daiwabo Group in 5 Minutes
Net Sales
Business



IT infrastructure distribution business:
As one of the largest distributors in Japan, we offer the best combination to meet customer needs from a wide range of IT-related products and services.
Fiber business:
As a comprehensive manufacturer of fibers and textiles, we grow our business globally, from consumer goods to industrial materials.
Industrial machinery business:
We contribute to all industries using the technology we have cultivated as one of the world's leading vertical lathe manufacturers.
Our three businesses leverage their unique strengths in different industries and fields.
By having a stable revenue base for each business, we are able to maintain and improve our business performance in a wide range of fields and to carry out continuous innovation at the same time, leading to growth for the entire Group.
In each business area, we carry out corporate activities in harmony with society and the environment.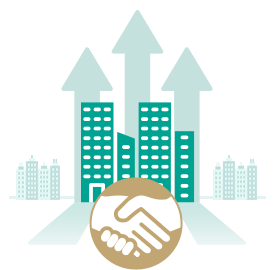 Established as Daiwabo
1941
Reorganized into Daiwabo Holdings
2009
Daiwabo was established in 1941 through the merger of four fiber and textile companies.
Although the business environment continued to change dramatically since the foundation of the company, we have been able to expand our business and achieve stable earnings by constantly implementing business reforms and growth strategies based on new ideas.
In 1949, the Shinji Factory of Daiwabo was spun off into a spinning machinery manufacturer, which became the foundation of the present industrial machinery business.
In 1982, we entered the IT business by utilizing our own system development know-how.
This business grew rapidly with the spread of PCs and expanded into our mainstay IT infrastructure distribution business.
After successfully spinning off each business into financially-independent companies and increasing their individual expertise, in 2009, we embarked on a new stage as Daiwabo Holdings.
We aim to further develop and contribute to society through our collective capabilities.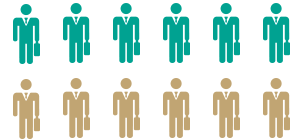 Number of employees: 5,683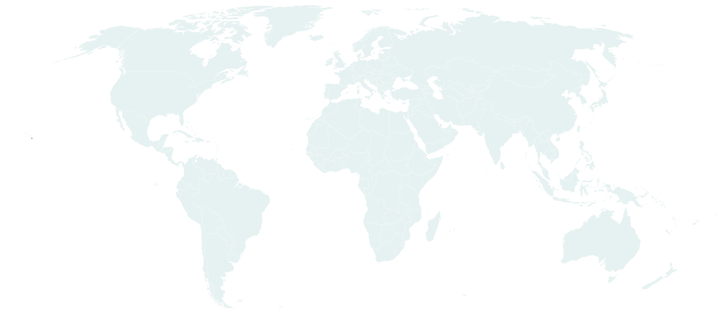 Consolidated Subsidiaries
26 companies

DIS Sales Offices
93 locations in Japan

As of March 2021, the Daiwabo Group has more than 5,000 employees across the entire organization, and Daiwabo Holdings continues to grow together with the Group companies in each business sector.
Daiwabo Information System Co., Ltd. (DIS), a core company in the IT infrastructure distribution business, has a network of 93 sales offices in Japan, providing a comprehensive service and support system that is closely tied to the operating regions of partner companies nationwide.

In the fiber business and industrial machinery business, we are cooperating with overseas bases in Asia and North America to strengthen our global strategy.
We respond to the diverse needs of our customers using our network that makes the best use of our expertise and collective capabilities.
Net Sales

448 billion yen

FY ended March 2010

1,043 billion yen

FY ended March 2021

+8.0 %

CAGR
Net Income

1.4 billion yen

FY ended March 2010


25.7 billion yen

FY ended March 2021


17.7 times

Compared with
FY ended March 2010
Since the fiscal year ended March 2010, we have been working to strengthen the Group's capabilities. We have continued to grow both sales and profits by responding to complex customer needs as a distributor, with the IT infrastructure distribution business as a key driver, in line with the rapidly advancing and diversifying IT market.
IT terminals are essential to our lives and business, and there is no doubt that they will continue to be used in every aspect of the world as a fundamental part of day-to-day life and business.
We will proactively leverage our strengths to take on new business areas, while also supporting the distribution of IT terminals and the expansion of related services.
Profitability and Stability



Debt to equity ratio
0.2times
By strengthening our profit structure through aggressive capital investment in core systems and thoroughly low-cost operations, and by steadily reducing interest-bearing debt, we have been able to leverage these synergies in order to improve business efficiency.
Return on equity (ROE) was 4.6% in the fiscal year ended March 2010, the first year of Daiwabo Holdings' operations, but improved significantly to 22.2% in the fiscal year ended March 2021.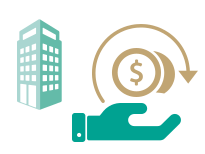 Dividend: 60 yen per share
The company has positioned dividends as an important issue in management and has a basic policy of returning profits continuously and stably in consideration of its financial situation and earnings trend.
For the fiscal year ending March 2022, we are planning to enhance the interim dividend and pay an annual dividend of 60 yen per share, with an interim dividend of 30 yen per share and a term-end dividend of 30 yen per share.